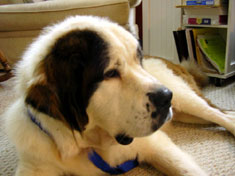 Ella was transferred to Dogs deserve Better from the Mason County Animal Shelter in West Virginia. She was turned in by her owners who kept her chained out 24/7. Knowing a dog of her size would not be able to find a home in the South, the shelter asked Dogs Deserve better to help find her a good home up North.
Ella arrived matted, skinny, completely untrained and unsocialized. She had never lived inside a home. We knew as soon as Ella rolled over to show us her belly - that all she needed was a little love, training and a bath.
Kathy and Joe saw Ella on our Petfinder site and were determined to make her a part of their family. Below is the latest report from Ella's new mom. Look what a difference a little love and patience can make in a dog's life:
Ella is awesome.
She is eating a healthy breakfast and dinner. But, still doesn't quite know what to do with treats...so she hides them about the house. However, she loves popcorn and shares w/us when we watch movies.
She is growing and gaining strength in her back end. She is much better with stairs, but still slides around on the wood floors. Like Bambi on ice.

She had a play date with Kelly, a friend of ours 8 mos. old, adopted, mix breed. They did very well.
She is very curious about everything, and takes her time to examine everything when we take our walks. My daughter calls her Ella the explorer.
We don't think she played very much and is discovering the concept...with us as well as other dogs...She doesn't quite know what to do with toys, balls, etc...

She has taken to sulking when I leave for work, so she now comes with me 2-3 days a week. I need to find a little barrel for her neck, then she would represent the perfect assistant.(I sell wine and spirits) She loves going and in between accounts we take many little walks.

She understands and learning very fast. We still only use the harness, and she understands "heal" and many other things. Since she doesn't quite know what to do with treats we reward her with lots of hugs and belly rubs...it is working since she loves the attention.

We are enjoying her so much and are grateful that she came into our lives.

Kathy